Welcome to...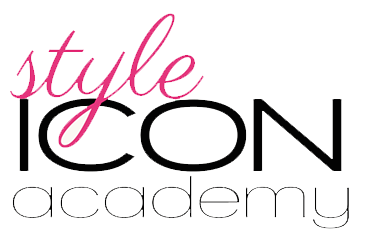 Where women like you come to become their own style icons, gain confidence, and finally find their inspiration!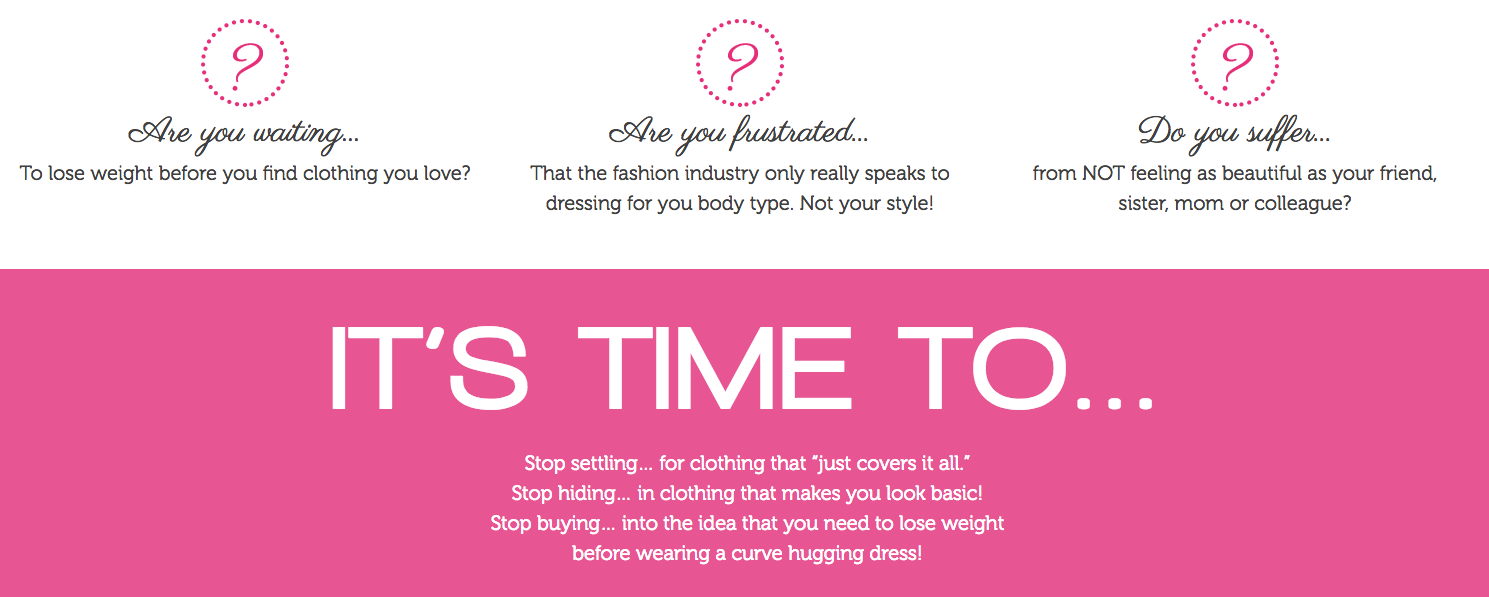 Let's face it, what you're seeing in fashion magazines only represents 5% of American females. You may like what you see, but you can't figure out how to make it work for you.
Things are changing, but in the meantime we still want to have that drop dead gorgeous feeling, walking into the room like you're freakin' Beyonce.
All without having to be a size 0 or losing a pound.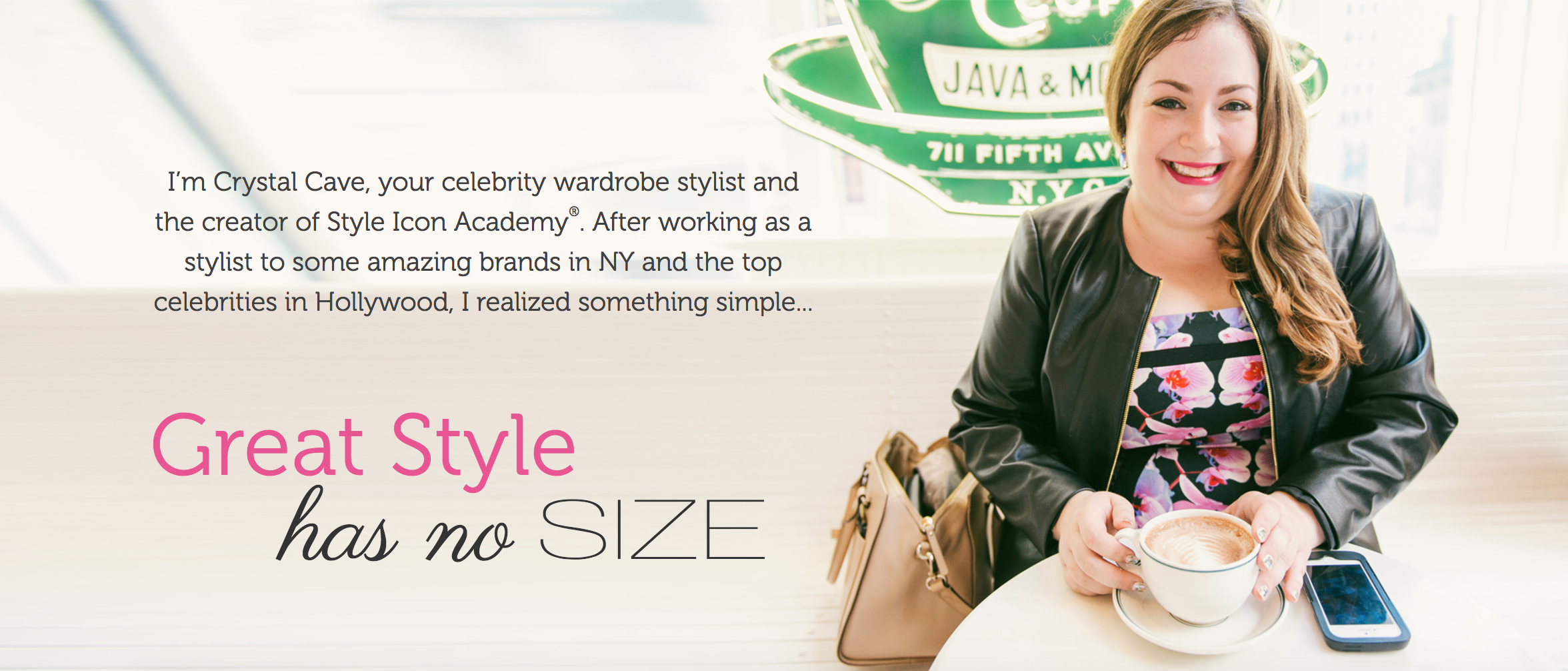 What Do I Teach YOU?
My 7 Step Method, where I take you step-by-step, learning the fundamentals of what goes into styling your unique, one of a kind, body.
In Style Icon Academy, you will learn all the fundamentals for styling your own, unique body, all while finally LOVING shopping, falling in love with your body, and being inspired again, in all areas of your life (style goes beyond just what you wear).
How does this work?
Over the course of 8 weeks, we'll cover topics from how to get inspired in your style, how to figure out your body shape and style it, how to shop just like a stylist (which means efficiently!), and how to put the whole look together with hair, makeup and accessories, plus so much more!
You'll receive all this style knowledge in:
24 Video Lessons with downloadable Audio:

Whether you're a visual or auditory learner, we've got you covered. You can watch the weekly lessons on your computer (or mobile device) and you can even take your lesson on the go while you're out and about.

Get Connected To Your Inner Style

Through our weekly style meditations you'll feel grounded and connected. Because we've all had the mean girl…. (poking the pain) Each of the 8 modules comes with a specially tailored meditation to get you grounded and connected with your inner self each week before you dive into the lesson. They'll come in super handy ADDMORE

8 Downloadable PDF Guides

From done for you outfit fundamentals, to a color guide, to a whole directory of stores for women sizes 12+. We've made it super easy to translate your style to your unique body with these easily downloadable cheat sheets that you can even take shopping with you!

Weekly Style Journal:

We've designed a journal to complement your Style Icon Academy journey to help you get clear on your goals, desires and needs with your style.
Even Better...
You get LIFETIME access to all the course material in Style Icon Academy. We cover a lot and since we all learn differently, this gives you time to absorb all the material, go through it at your own pace and go over it again as you grow (whether spiritually or physically as you naturally gain/lose weight)
This INCLUDES future added materials - because, you know, I'm always adding to my list of amazing guest mentors, sharing new tips, fashion trends and advice I learn along the way.
Of Course It Doesn't End There!
Nope. You also have access to an incredible sisterhood in your LIFETIME access to the Style Icon Academy Homeroom® Facebook Community.
Women naturally thrive more in healthy community environments (it's biology, yo). You'll be able to connect with other women in the Style Icon Homeroom who get you and can be your cheerleader as you go through your style journey--from helping you leave your dressing room frustrations at the mall to celebrating that you've finally been able to go shopping without frustration.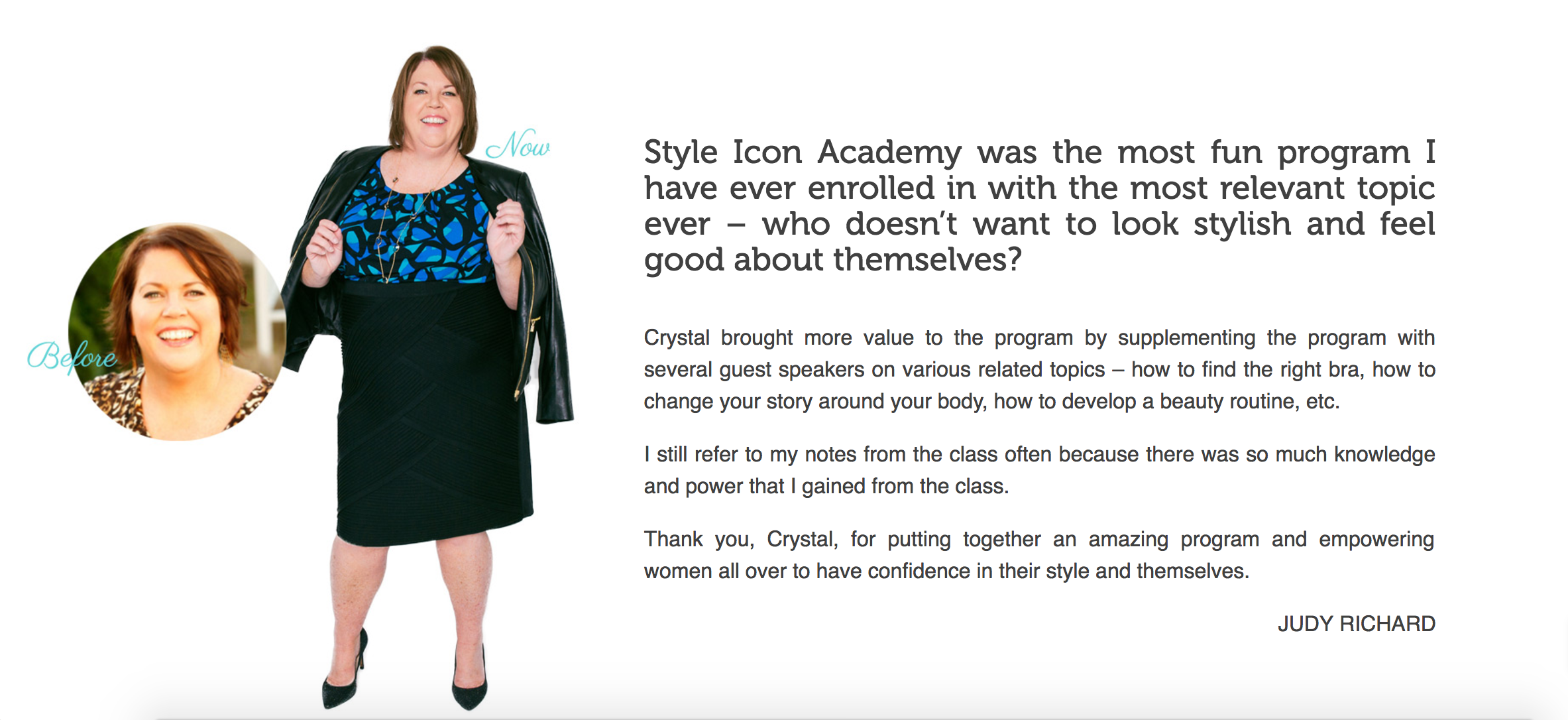 Did I mention, we get personal?
Because you are becoming your OWN Unique Style Icon, you need your own personal style and body and confidence questions answered. So, TWICE monthly, you can jump on a LIVE Video Call with me to get all the support you need.
The best part is that you have unlimited access to these personal LIVE Video calls with me. So, as your own style evolves and as your body changes, you can always connect with me to get your questions answered.
Beyond Me…
Because becoming a Style Icon involves so many elements of your life, including…
How you feel about your body
The stories your mind is telling you
Your undergarments
Your make-up
Your online shopping experience
I bring in tons of guest mentors to teach you everything from how to get the perfect fitting bra to a full on make-up lesson.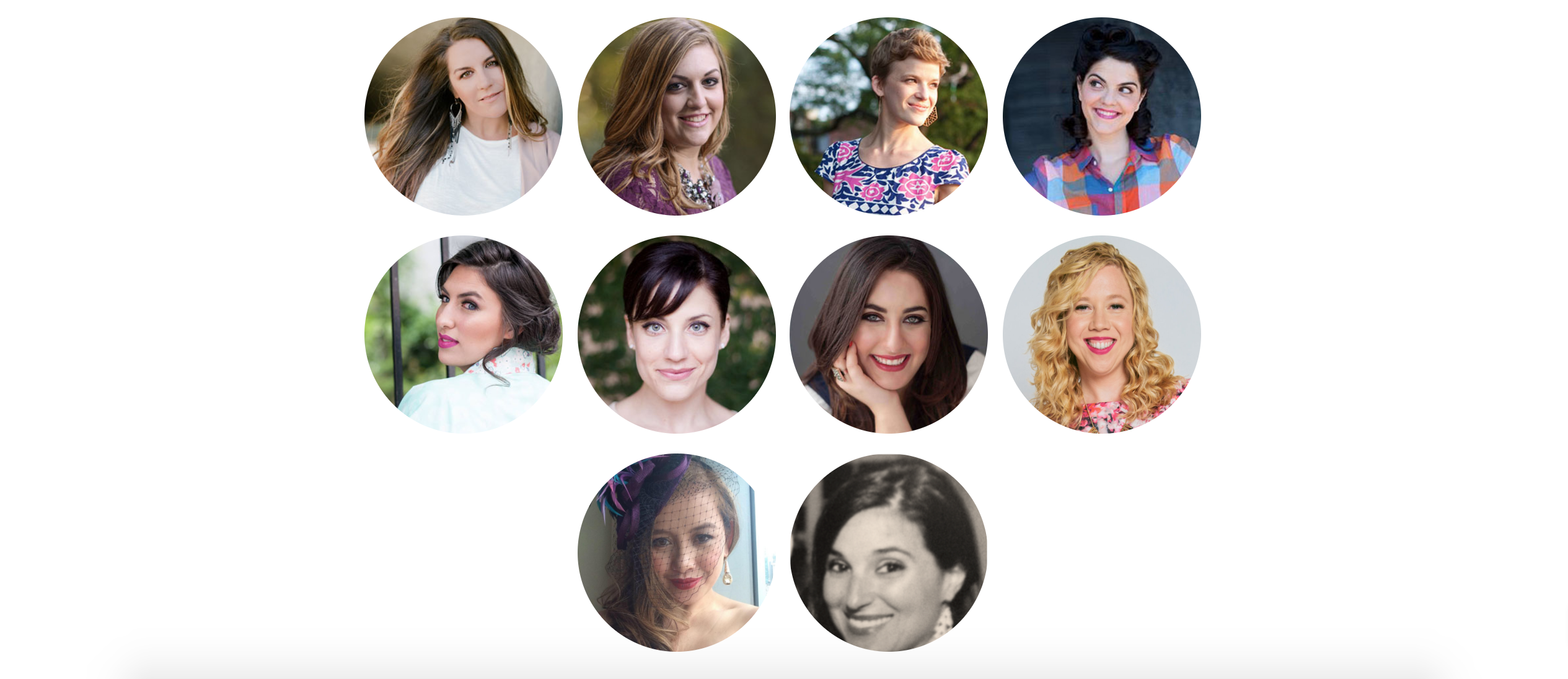 Why do I need Style Icon Academy?
Because, whether you want to actually be a celebrity (in Hollywood or your field of study) OR you simply want to feel amazing walking into a cocktail party...
You STILL need to FEEL GREAT in the body you have now in order to Walk into ANY Room with Confidence and Grace.
The key to doing this all comes from within!
That means Loving the body you're in now and knowing where to get clothing that fits you and makes you feel amazing!
It's time to Live Your Life NOW!
Style School Is For You If You Are Ready To FINALLY…
LOVE taking full body selfies
Enjoy your next big shopping experience
LOVE who you are now
Embrace your desired style
LOVE yourself and own your worth
Dance through your morning routine with grace and ease
LOVE the support of a tribe of likeminded women
Finally feel and know at your core that you're beautiful

Dear Sister,
I hear your fears. I understand your reservations. And I want you to know this…
You are beautiful – right now, just as you are.
You are so worth it.
You deserve to feel glamorous, sexy, and confident.
You can look and feel amazing, without losing a single pound.
Most importantly,

YOU ARE NOT ALONE.
In fact, there is an entire community of women just like you who are committed to dreaming bigger, seeing all the possibilities in front of them, and embracing the beauty of who they truly are – and believing that the goddess that radiates from within deserves to come alive through the clothes they wear.
Style Icon Academy is about so much more than what to wear. It's the path home to who you really are and what you are here to do in the world. Let's take this journey together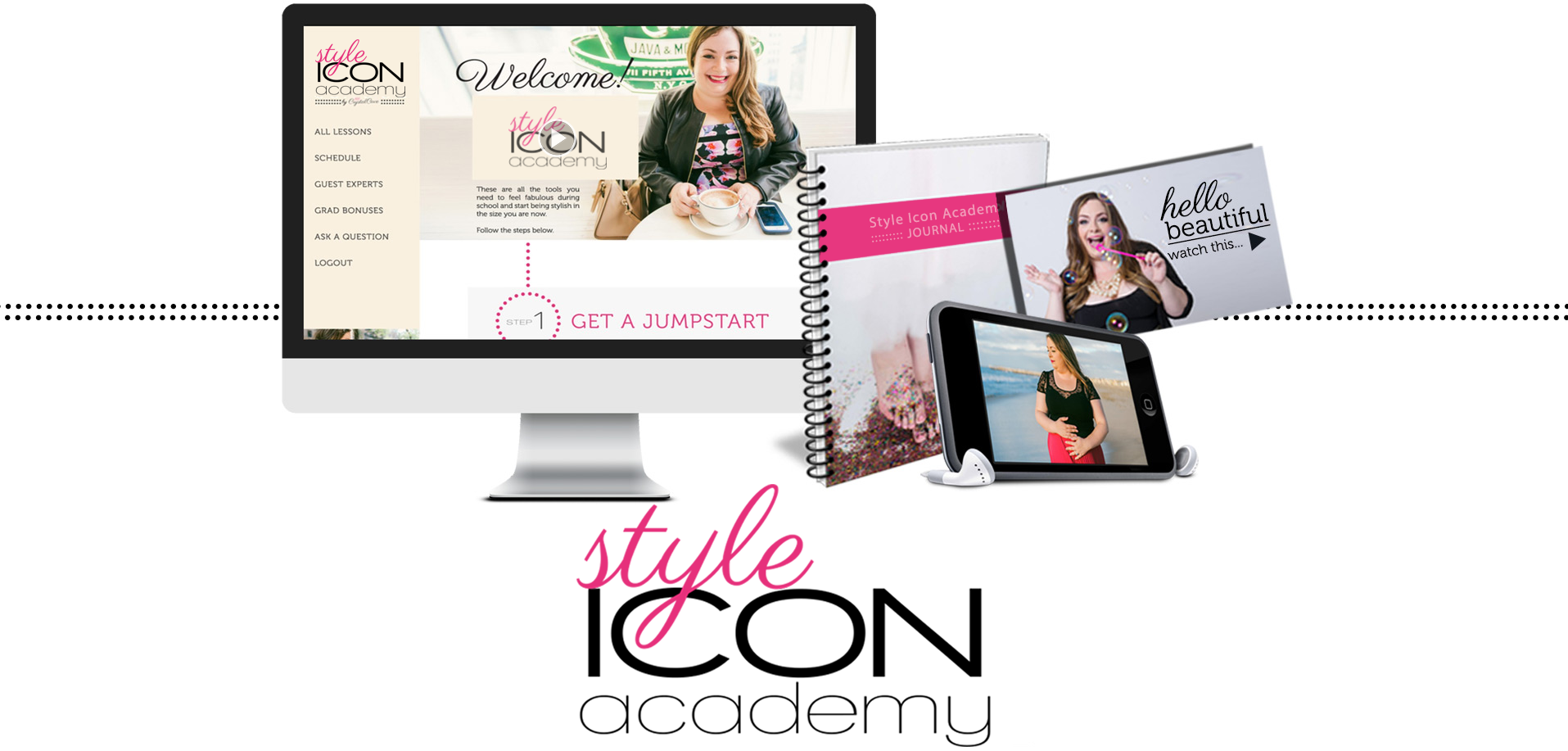 When you enroll you'll get all this!
24 Style Video Lessons
8 Audios Meditations to Get Connected To Your Inner Style
Downloadable PDF Quick Guides
Style Icon Journal
Lifetime Access to Curriculum!
A Community Of Supportive Women!
Monthly LIVE Group Video Calls
10+ Amazing Guest Interviews
Your Instructor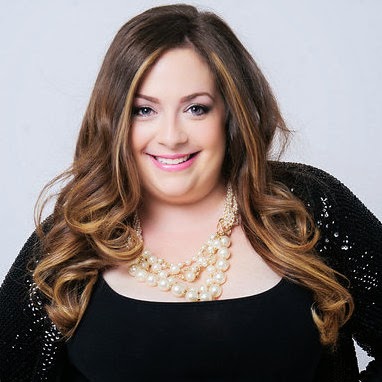 Crystal Cave is former celebrity wardrobe stylist turned Style Educator + Fashion Designer. She is the creator of the "Become Your Own Stylist" education course, the founder of Crystal Cave Style and founder + creative director of Poppy Row, a sustainably made in the USA clothing line for women sizes 2-28. She is an International Business Award Winner, Public Speaker and TV show host at CrystalCaveTV. She has been featured on CBS, The Huffington Post, MindBodyGreen, NBC, The CW and many more.


Frequently Asked Questions
How long do I have access to the course?
How does lifetime access sound? After enrolling, you have unlimited access to this course for as long as you like - across any and all devices you own.
Will I get any personal attention or have to follow it all by myself?
You're not alone! Yes, this group format is a more affordable way to get access to all of the principles I teach my private clients, but you have support! On our weekly stylist Facebook LIVE video chats, you have the opportunity to submit your questions to me while I'm LIVE on video. Additionally, you will have access to your Style Icon Mentors to help you work through issues that come up.
I'm a seriously weird shape, is this for me?
There's no such thing as a weird shape, my dear. Nobody is exactly the same. We do teach you about your body shape but becoming a Style Icon is ultimately about knowing your Style first. I'll show you exactly how to do that in Style Icon Academy so you can feel confident in any situation. You'll also have plenty of opportunities to ask me or the Style Icon Academy Facebook Group any questions so we can help!
Does it matter what size I am?
No! You're style will come first. The skills you learn are applicable no matter your size. Style, not size, comes first! The Style principles I'll be teaching you in Style Icon Academy are super valuable whether you're a size 2 or 22. You'll also have plenty of opportunities to ask me and your Style Icon Mentors any questions you have throughout the program so we can help!
I need help when I go to work and when I go out at night. Will this course cover both?
Yes, your style shouldn't be separate from the many areas of your life. If you are truly confident, own who you are, and know your style? You can easily flow between day and evening. We'll cover the details of dressing up and down outfits that can help you feel great no matter where you're going.
I have a small clothing budget, is this worth it?
The biggest compliment I always get is that people think I spend tons of money on my clothes. But the truth? I do a LOT of mixing high and low end items. It's about knowing what fits your body so you can shop and purchase the right items, whether it's at Target or Saks! Plus, an outfit that fits? Will always look more upscale :)
I want to lose weight, why would I do this now?
Are you waiting to do everything before you lose the weight? As one of my personal mentors Sarah Jenks encouraged me when I first started her program Live More Weigh Less, we have to start dressing for the life and bodies we have now, not waiting for 10, 20 or 100 pounds to come off. I've come to realize how true this is, not only in my own wardrobe (and I'm a stylist!) but also in our everyday lives. If your biggest hesitation for everything in life involves waiting to lose weight, I encourage you to stop weight-ing and start living in the body you have now. The results are powerful.
I've spent a lot of money on my business, is my style really important?
YES!!! It frustrates me when I see women with amazing messages whose branding sucks because their style doesn't reflect who they are. Your style not only affects you, but how you carry yourself and interact with clients, colleagues, and anyone else in your life. In fact, studies show that you make 20% more when you have a defined personal brand. Want to be treated like the pro that you are? Let your style send the message.
I'm a mom with young kids, I don't have a ton of time to spend on getting dressed. How can this help me?
Ok, so I will admit, I am not a mom but I do know it is the hardest, most underpaid job in the world! I was lucky enough to have a stay at home mother and one of the greatest things she taught me was taking the time to get herself dressed every day. She could have taken that extra time to do hundreds of other things around the house. However, I believe that by taking the time to take care of herself first, she was able to take better care of us. It taught me that self care is important and the highest form of love because it allows you to love more completely.
I'm in my 50's, will this be helpful for me or is this just for younger women?
Gotta say, great style has no age! I've worked with many women in the 50+ crowd with fantastic results. Remember: this is about developing your own personal style and learning how to dress your unique body. This is not about trying to dress like someone else or dress like your younger self. You can be fabulous (and age-appropriate) no matter your age!
I'd like to sign up but I'm worried about the money
I totally get you. I know I am a recovering people pleaser, so in the past, I would ALWAYS put the needs of others before my own. It was crazy to think I should spend money on myself. But, eventually my need and desire for support pushed me to take the jump and I invested in my own personal development. At first I was like, "O-M-GEEE, how could I be so irresponsible." Now, investing in my own personal development is always at the top of my list. It is one of the most worthwhile things I've ever done in my life. The changes that I saw in myself from that personal development investment are night and day. Investing in myself is one of the most empowering and strong things I've done. I am proud to share my resulting experiences.
I'm interested in working with you 1:1, do you work with private clients?
I understand that all of us learn differently and you may want more personalized attention. Currently, in my 1:1 practice, I focus on working with entrepreneurial change makers to build and improve style & business brand. I do this through VIP days and/or monthly coaching. Find out more by emailing
[email protected]
for more info.
When does the course start and finish?
The course starts now and never ends! It Comprised of 8 weeks of lessons but ultimately it is a completely self-paced online course - you decide when you start and when you finish. For Winter 2017: Lessons are released on a weekly basis, which allows you to play along live!
Help! I have more questions than answered here, how do I reach you?
Feel free to email us at:
[email protected]
- I'd be happy to go over any questions you have.